Jupiter and Io
but
the planet
and
its innermost moon
.
These two pictures were taken within 15 minutes of each other a few days ago on the night of 7 October.
Click the pictures below to see them in full size.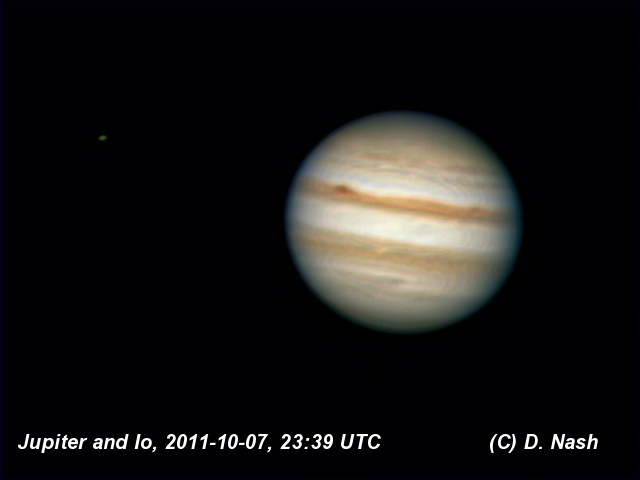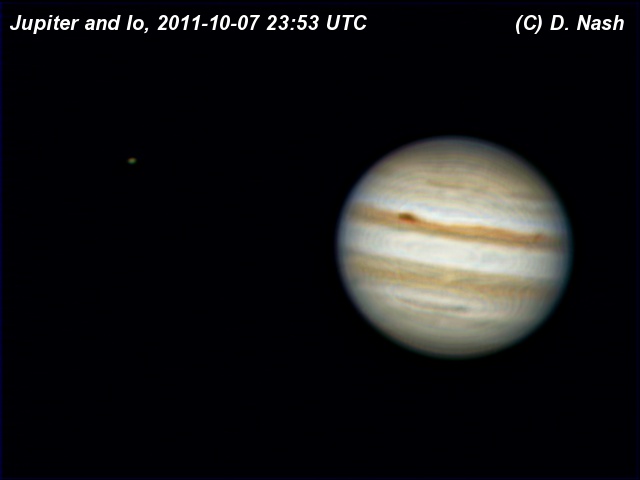 Each one is the result of stacking 3000 webcam frames captured with
K3CCDTools
. I stacked them in
Registax 6
and processed further with
The Gimp
.
Some artifacts of the capture and stacking process can be seen around the edges...the infamous "ringing" that often shows up in stacked images of Jupiter. However plenty of genuine detail did show up on this occasion.
Captures of Jupiter have to be done in a short time due to the fast rotation of the planet. You can see the movement in the two images above. Capturing for too long a time would result in blurred pictures.
For the same reason, the USB 1.1 webcam is best at 15 frames per second, allowing more frames to be captured (and therefore a better result after stacking) than using potentially higher quality but fewer frames when capturing at 5 fps.
My captures were limited to 3000 frames at 15fps which takes 3 minutes, limiting the motion due to rotation to a tiny amount.
[ add comment ]
( 3088 views ) |
permalink
|





( 3 / 3460 )
---
<<First
<Back
| 1 | 2 | 3 |
Next>
Last>>